Check out this new article by Dr. Nicole Jensen on RSV
We are pleased to announce that Dr. Sarah Lewis will be joining our practice. Dr. Lewis was previously with UVA Family Medicine. She will be seeing patients of all ages with a focus on women's health. We qill post a more detailed bio of her at a later date.
New Web Appointment Scheduling
We have enhanced our web scheduling tool. Check it out by scheduling your next appointment through our website or through the MyPrivia mobile app.
Process for Checking In for an Appointment
In order to keep our patients safe, we ask that you wait in your vehicle when you arrive for your appointment. Please call our office when you arrive at 434-305-0501, select option 1,  to check-in for your appointment. A nurse will be out shortly afterwards to perform a quick health screen and escort you into the office. Thank you for your patience as we work through this crisis together.
The Virginia Department of Health is entering phase 1B of the vaccine administration program. This means that people age 65 or older or age 16 to 64 with an underlying condition are now eligible to receive the vaccine. While we currently cannot get the vaccine in our office, we strongly encourage you to register with the Virginia Department of Health and schedule your appointment with them for the vaccine. Their web address is https://www.vdh.virginia.gov/covid-19-vaccine/ for this process.
We have received many requests for information on the availability of the COVID-19 vaccine. The Virginia Department of Health (VDH), in collaboration with the Centers for Disease Control, is responsible for developing the vaccine roll-out plan for the vaccine and allocation of the vaccine for administration. They are currently focused on healthcare workers and nursing home residents.  We are in close contact with VDH as well as the local hospitals, unfortunately at this time there is no timeline for when anyone outside of these groups will be able to access the vaccine.  There is not currently a sign-up or waitlist for earlier access to the vaccine.  As soon as we have more information we will notify you through the patient portal/facebook/our website.  You can also check for updates at the VDH website at   'vdh.virginia.gov'.
Comments from Our Patients
Dr. Henkler is absolutely stellar. She is kind and extremely knowledgeable. I highly recommend her to anyone seeking a "real" doctor.
I am a new patient and so far have found everyone there to be pleasant, caring and knowledgeable. I feel like I am well taken care of. They are easy to communicate with if you have any concerns or questions between appointments. I have recommended them to all of my friends.
Dr. Levin is our absolute favorite! Getting an appointment is always easy, the office is immaculate and we always get dedicated attention and care. Couldn't recommend this place enough!
Love Dr Levin. She?s such a great listener and spends extended time with me. I really appreciate a doctor sitting down and talking to you and discussing ideas instead of immediately prescribing drugs!! Thanks again!
My first visit and it was exactly what a Dr's office should be. Warm, inviting and kind.
Everything about my experience yesterday was positive. Everyone was so helpful and listened to my concerns. I have already recommended this practice to others and will continue to do so!!
Special Note to Optima Patients
Optima will end coverage of telehealth / virtual visits as of August 31, 2020. Visits after this point will need to be in-person in our office.
WE ARE OPEN AND HAVE COVID-19 ANTIBODY TESTING!
We would like to let you know that we are OPEN and seeing patients in the office, in their cars (if any COVID symptoms) and virtually. We would love to see you!!!
Additionally, we are excited to announce we can now order testing for COVID-19 antibodies here in the office! If you are interested, please call our office at (434) 305-0501 to schedule a virtual visit with one of our providers so we may decide which testing would be most beneficial for you. After your virtual visit, we will schedule you to have your blood drawn at the office. Thank you!
COVID-19 Webinar / Ask the Doctor Scheduled for April 29th
WholeHealth Medical is hosting a webinar to give you an update on where our region stands on the COVID-19 pandemic and to answer any questions you may have about this virus, including protocols implemented by our practice to mitigate this outbreak. This session will be hosted by Dr. Kelly Henkler and Bridget Diakun, FNP. Please call our office at 434-305-0501, option 1, to register for this session. It is scheduled for Wednesday, April 29th at noon. Once you have registered, we will send you an email invitation with the webinar details.
How easy is a virtual visit?
Want to know how a virtual visit works with your provider? Watch the video below to see how easy it is to see your provider virtually.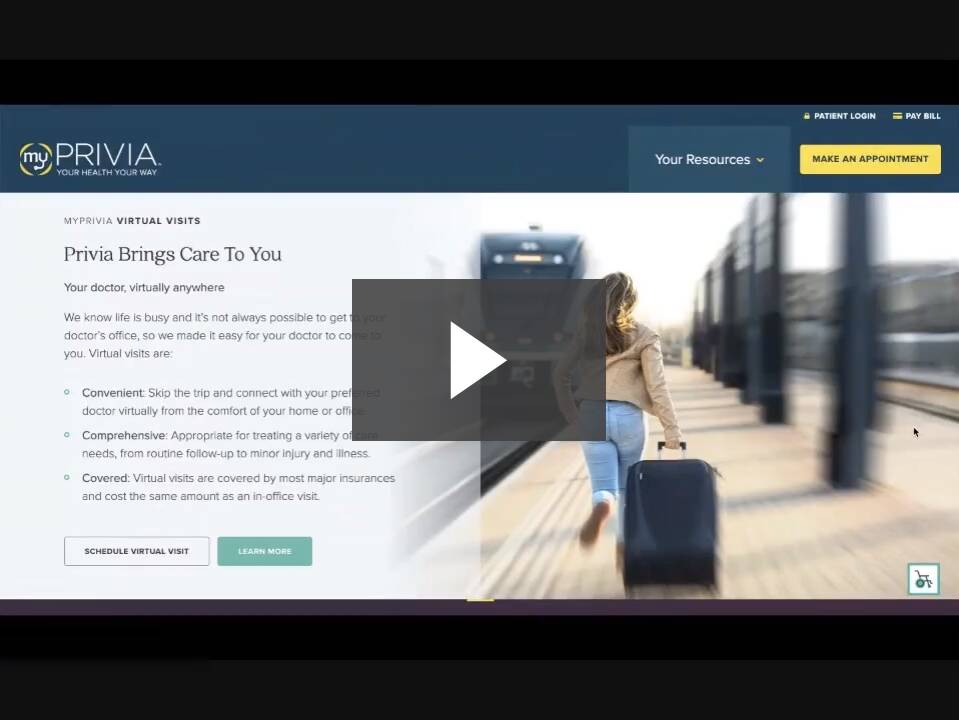 myPrivia Virtual Visits – How To Video – Desktop – Privia Health
We're Open and Here for You
We at WholeHealth Medical want you to know that we are open and ready to take care of your healthcare needs. Travel to and from medical visits is allowed under the Governor's latest travel restrictions. We can also perform virtual visits using your computer or smart phone so you don't have to leave your house. To learn more about this or to schedule an appointment, you can call our office at 434-305-0501 or make an appointment online through our website or the MyPrivia mobile app.
We have added additional professional staff so we can accommodate same day / next day appointments. We want to be your first choice in healthcare and reduce and / or eliminate visits to an emergency department or urgent care center. Your primary care provider will be your best source of care and also reduce your out-of-pocket costs.
IMPORTANT CORONAVIRUS UPDATE
WholeHealth Family,
At WholeHealth we are closely monitoring the new Coronavirus (COVID-19).   Our highest priority is to continue to provide quality care in a safe environment for you and our staff.  Here are our current recommendations: 
If you are experiencing a fever (temperature >100.4), cough, or shortness of breath, please call our office so that we may discuss the next best steps, including testing for COVID-19 if you qualify. Please DO NOT go to the Emergency Room simply for a test, they will not test you unless you are ill enough to be admitted to the hospital. Please use the ER only for true emergencies. 

If you are experiencing mild cold or flu-like symptoms such as runny nose, sinus congestion, a productive cough, vomiting, or diarrhea, and would like to be seen for an appointment, please call our office to set up a virtual visit. During this visit, the provider will then determine if it is necessary for you to come to the office for an exam. 

At this time we are encouraging that ALL patients consider taking advantage of our virtual visit capabilities for ALL visits including sick visits, wellness visits and medication checks. If bloodwork or vaccines are needed, then we can schedule appropriately to try to reduce your risk of exposure to ill patients. 
We encourage you to continue practicing social distancing or self-quarantining, good hand washing, and staying home if you feel sick. When in doubt, please call our office to discuss your concerns.   Evenings or weekends you can access either our nurse help line or our on-call provider if you have questions or need assistance.  
Best of health,
WholeHealth Medical
Update on Coronavirus (COVID-19)
As our patient, your wellbeing is our highest priority. We have been closely monitoring the respiratory illness caused by a new Coronavirus (COVID-19), and we would like to provide resources to help you take care of your health and protect others. Please visit the Centers for Disease Control (CDC) website for the most up to date information regarding this evolving situation, how to reduce the risk of spreading illness, travel health notices, and more. (https://www.cdc.gov/coronavirus/2019-ncov/index.html)
If you are experiencing mild cold or flu-like symptoms such as fatigue, runny nose, and cough, please remain home and consider calling our office to either schedule a virtual visit with one of our providers or speak to one of our staff to evaluate your symptoms and discuss next steps, including scheduling an office visit if it is deemed necessary.
If you are experiencing more severe flu-like symptoms such as high fever (>101 degrees) in addition to symptoms of respiratory illness (cough, shortness of breath), and/or have been in close contact with a person known to have COVID-19, or have recently traveled to an area with ongoing spread, please call our office to either set up a virtual visit or speak to a member of our staff to discuss next steps.
Unfortunately, COVID-19 testing is not currently available in an outpatient setting. Therefore, we are not equipped at this time to test for COVID-19 in our office, however, we have resources in the community which we can direct you to if testing is needed.
To protect yourself and others, please continue to use best hygiene practices including regular and thorough handwashing, covering your face when you cough and sneeze, and staying home if you are feeling ill.
We will continue to update our website as information and protocols change. If you have any questions or concerns, please contact our office.
Best of health,
WholeHealth Medical
Welcome Dr. Kelly Henkler
We are pleased to annouce the addition of Dr. Kelly Henkler to our Family Medicine Practice. Dr. Henkler is a  Family Medicine Physician who graduated from Albany Medical College in New York and completed residency training at the University of Virginia.  Additionally she has a B.S. in Animal Behavior from Bucknell University in Pennsylvania.  She enjoys taking care of patients from all walks of life but particularly enjoys women's and children's health.  She focuses on preventative and evidence based health care.  In her free time she enjoys running and reading.
Call to schedule your appointment with Dr. Henkler at (434) 305-0501.
What Our Patients Say About Us (Latest Patient Satification Survey)
"Bridget is Terrific!"
"This office never fails to see our family for anything, including injuries requiring stitches and / or immediate care. We're always greeted by name and our family is very comfortable here!"
How to Take Antibiotics from the CDC
What Our Patients Say About Our Practice
Dr. Beisecker-Levine is the best. In addition, her medical staff are superb!
I love it here–very attentive and professional. I am comfortable and I trust the expertise!
If you don't see an available appointment by looking at our online schedule, please call our office at 434-305-0501. We will do our best to fit you in for a same day appointment.
"Excellent vist!"
"Great! And I did already recommend a friend-who was also happy with their visit!"
"So glad Dr. Levin went out on her own. Wonderful doctor and staff."
"Just so very happy with Dr. Levin as my physician."
Internet Explorer No Longer Supported on the Patient Portal
Updated: Discontinue Patient Portal Support for Internet Explorer
| | |
| --- | --- |
| Summary | The athenahealth Patient Portal is ending support for Internet Explorer. Patients will no longer be allowed to access the Patient Portal using IE and must download a supported browser. |
| Products | athenaCollector and athenaCommunicator |
| Roles | Management/Technical, Patient |
| Available | November 13-15, 2019 |
| Highlights | If your patients are currently using Internet Explorer as their default browser, they'll need to download a supported browser at one of the following links: |
Why is this happening?
Approximately 3% of all patients use an Internet Explorer 11 browser to access our Patient Portal. Internet Explorer does not support modern web standards and can expose its users to security threats. Microsoft ended support for IE 11 in January 2016, and now views it as a compatibility solution, recommending Edge as the default Microsoft browser. We want our athenahealth Patient Portal to work as well as it possibly can, and Internet Explorer is not compatible with these improvements.
How will this affect patients?
Patients that attempt to use Internet Explorer to access the Patient Portal receive a message with links to download a supported browser:

We are now in the Medicare open enrollment period. Before you select your new plan, please make sure that we participate with the Medicare Advantage plan that you are looking to select. We participate with Medicare and Humana Medicare Advantage. If you are looking at other options, please check with them to make sure our providers are in-network.
What Our Patients Say About Our Practice
Dr. Levin is the best!!!!
Dr. Levin understands her patients very well and her diagnosis and medical advice is exceptional.
I was very satisfied with the whole experience. The staff is very friendly, knowledgeable, and took the time to listen and care for me. I am happy that I have finally found a competent medical team!
Love that each room has entertainment for young kids!
My whole family see's Dr. Levin! We LOVE her!
Dr. Levin continues to meet and exceed all my family's expectations. The new office is great, the staff is friendly and happy, and I won't choose to go anywhere else.
We have a new Facebook page with more news and health information. You can find us on Facebook at 'WholeHealth Medical' or you can click the Facebook icon in the lower left hand portion of our website.
Now Offering Virtual Visits
Our practice is now offering virtual visits.
Your doctor, virtually anywhere
We know life is busy and it's not always possible to get to your doctor's office, so we made it easy for your doctor to come to you virtually. Virtual visits are:
Convenient: Connect with your doctor from the comfort of your home or office
Affordable: Covered by most major insurance carriers
Effective: Appropriate for treating a variety of care needs
To learn more about this technology and convenience, please visit the following link: http://www.myprivia.com/virtual-visits/
We are experiencing issues with submitting claims to Optima. We apologize for the inconvenience to our patients and are working to have these resubmitted to Optima with the next 1-2 weeks. We appreciate your patience as we work through this problem. You will be recieving a new statement from Optima in the coming weeks with corrected claim processing amounts.
Tips for Managing Anxiety and Depression
 Throughout life, we all experience some sort of anxiety and depression. However people often wonder what is the difference between the two, and how do they often mix together. Though both have similar traits, they can be very different as well.
    Anxiety is considered to be a persistent worry/ fear of everyday life. For example, going to work with a presentation, having a huge test at school, or just fear of something bad happening to you or someone close to you. It can cause your body to feel like it's heavy. Some symptoms of anxiety include nausea, fatigue, insomnia, worry, fear, and heart palpitations.
    Depression is a mood disorder that can cause a person to have a lack of interest in everyday life. When people have depression, they feel sad, or like they have let people down. This can cause a significant impairment for everyday life. Signs of depression include anxiety, unwanted thoughts, crying, mood swings, and agitation. There are also different types of depression including postpartum, manic/bi polar depression, major depression, and situational.
     Let's admit, life can be tough, however there are ways to mange both anxiety and depression. Learning a few of these few quick easy tips can help change your mood, and possibly your outlook in life.
    Tip 1: Count to 10, counting can give you the time to stop and think about what your're going to do or say. It can also relieve some stress to get into a happy place for just a few seconds. Take time for yourself.
      Tip 2:  Deep breaths, taking a few deep breaths help with oxygen flow to the brain, and also helps relieve the mood you are in.
      Tip 3: Seek help, talking to friends or  talking to your doctor can help steer you on the path of recovery, weather it's medication, or changing things in daily life, there is help.
      Tip 4: Love yourself first, loving yourself promotes positive energy and love with appreciation for yourself. Knowing that you are unique, and there is only one you always brings happiness in ones life.
Diet Tips for Diabetic Patients
1). Try to take in at least 8 grams of fiber with every meal, especially if you eat a meal higher in carbs. Fiber helps to regulate blood sugar, helps you feel fuller longer, and is great for heart health!
2). Eat whole wheat and whole grains like oats and barley.
3). Great food options are lean cuts of meat, low fat dairy, and proteins like beans, lentils, or nuts. These foods are lower in saturated fats.
4). Foods that won't spike your blood sugar are lean meat, poultry, fish, eggs, and cheese. Foods high in protein can help to balance the carbs that you intake.
We have same day appointments available. You can check availability on our website, the Privia mobile app, or call our office at 434-305-0501.
Now Offering Virtual Visits Through Privia Virtual Health
We're available 24/7 from the comfort of your home or office. When you need immediate care, first contact our office. If we are unavailable, you can always be seen by another Privia doctor via video chat 24/7. As an established Privia patient, you'll benefit from the doctor having access to your medical record and care plan information. After your video visit, you'll get coorinated follow-up care with your usual provider. Call our office to learn more about this new service or visit www.myprivia.com/virtualhealth for more information. You can also download the MyPrivia app from the app store.
We are Proud Members of Privia Medical Group!
As of May 6th, 2019, we are proud members of Privia Medical Group!